The MDRC George Cahill Lecture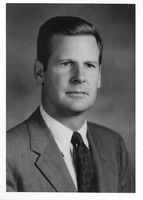 George F Cahill, Jr., MD
As scientists and physicians, we are all both products of our time and contributors to its historical imprint. It is the rare individual, however, who sufficiently contribute to this imprint so that his/her impact is still evident a half a century later. One such individual is George Cahill.
George obtained his MD at Columbia P&S; in 1953 and then did an internship and residency at what is now Brigham and Women's Hospital in Boston. This was followed by a fellowship in the Department of Biological Chemistry at Harvard Medical School where he subsequently became a member of the faculty. During this time, he worked closely with his former Senior resident, Albert Renold, and together they carried out some of the classic early studies of adipose tissue metabolism and its regulation by insulin. In 1962, Renold returned to Switzerland and George succeeded him as director of the Baker Lab which subsequently became the Joslin Research Laboratory. The next 16 years were truly remarkable. First, George and his coworkers carried out classical studies of human metabolism during starvation which demonstrated that:

(1) During a prolonged fast, ketone bodies derived from the partial oxdiation of fatty acids by the liver can replace glucose as a fuel for brain.

(2) This switch of brain to a fat-derived fuel enables humans to conserve protein in muscle and other organs and as a result to survive starvation for extended periods.
Equally noteworthy, during this time, George trained nearly a dozen fellows who became world leaders in diabetes and metabolism research, he guided the growth of the Joslin into the world's largest and best known diabetes research laboratory; and he traveled the world many times over to lecture on metabolism and diabetes in his own incomparable style.
In 1978, George left the Joslin to assume the position of director of research and subsequently vice president of the Howard Hughes Medical Foundation. In 1990, he returned to perhaps his greatest love teaching and lecturing. Thus, for the next 7 years, as a Professor of Biological Sciences at Dartmouth, he developed and taught a course in biology centered on humans and their diseases that typically attracted 400 students a year.
George retired from academia in 1998, but continued to be active as a consultant and part time researcher for another 10 years. He passed away in 2011.
Text written by Neil Ruderman, MD, D.Phil. - Boston University Medical Center
♦ ♦ ♦
On July 30, 2012, Dr George F Cahill, Jr. passed away in Peterborough, New Hampshire at the age of 85. Dr Cahill was a world-renowned diabetes researcher who served as Joslin's Research Director from 1962 to 1978.
Dr Cahill did his undergraduate education at Yale and then went to Columbia College of Physicians and Surgeons, where his father was on the faculty as a urologic surgeon. After medical school, George came to the Peter Bent Brigham Hospital in Boston, where George W Thorn, the great endocrinologist, was Physician-in-Chief. He was strongly influenced by Thorn, as well as by his senior resident, a Swiss physician named Albert Renold, who also was destined to become a great diabetes researcher. Renold had spent two years in the Department of Biological Chemistry with Prof. A Baird Hastings prior to his Brigham senior residency studying carbohydrate metabolism and, following this example, after his second clinical year, Cahill joined the Hastings laboratory to study glucose metabolism. After two years in the Hastings lab, he returned to the Brigham for another clinical year and then joined Renold, who had moved to the Baker laboratories at the New England Deaconess Hospital. In 1962, when Renold returned to Switzerland, Cahill took the reins as head of research as the Baker labs joined the Joslin Foundation and began to evolve into what is now the Research Division of the Joslin Diabetes Center. Cahill also served as head of the Endocrine-Metabolic Unit of the Brigham and gradually rose up the academic ranks to become Professor of Medicine at Harvard Medical School.
Cahill's research at Joslin focused on defining the normal physiology of glucose and amino acid homeostasis during feeding and fasting, as well as in obesity and diabetes. His studies set forth many of the tenets that form the basis of our classic understanding of these processes. His early interest in ketoacid metabolism stayed with him through his life, and even led to a late interest in developing high energy supplements for military personnel in combat areas situations on this pathway.
Cahill was also a devoted and supportive mentor who trained many of the individuals who went on to further the field, including Oliver Owen, Philip Felig, Errol Marliss, Thomas Aoki, Guillermo Herrera, Neil Ruderman, Aldo Rossini, Fred Morgan and Murray Brennan. As a result, Cahill's influence on diabetes research was felt worldwide through both his many seminal discoveries and through the training of hundreds of fellows and students who have become leaders in diabetes research, care and education throughout the world. In addition, for those of us who knew him, Dr Cahill's skill, unique style and passion for teaching of students, young investigators and colleagues of all ages is one of the hallmarks of his remarkable career at Joslin, the Brigham and Women's Hospital, the New England Deaconess Hospital, and Harvard Medical School.
In 1972, George joined the Scientific Advisory Board of Howard Hughes Medical Institute (HHMI), which was in control of candidate selection, as well as reviews of investigator performance. In 1978, he left Joslin to become Director of Research for HHMI where his influence on this organization increased. He was eventually elevated to a Vice President of HHMI. In 1989, he resigned that position to move to his home in Stoddard, NH. Being the consummate teacher, he joined the faculty of Dartmouth College (about 50 miles away) to support their biology programs and was given the title of Professor of Biological Sciences. There, he taught a course of biology for non-scientists which was so popular that within a few days after starting, they had to move from a classroom designed for 100 to an auditorium that held more than 400 students. He taught this course for seven years and received a teaching award from the students who loved it. In 1996 he retired completely to spend more time with his wife Sally, his children and grandchildren.
In addition to his many academic skills, George was fit and trim throughout his life, and a great athlete, being an extremely competitive squash and tennis player. He was always intellectually engaged, but also thought broadly in science, outside his own area of metabolic expertise. His career was recognized by many honors and awards, including a symposium held in his honor at Joslin in November, 2006. George Cahill was a very important man in the history of diabetes research of the 20th century. Both the Joslin and the world will miss him.
Text written by C Ronald Kahn, MD
The George Cahill Lecture
In the memory of George Cahill, the Montreal Diabetes Research Center has created in 2014 "The George Cahill Lecture" given by world leaders in clinical research. The George Cahill Lecture 2014 has been given on February 7 at the new CHUM research center by Dr Bernard Zinman from the University of Toronto. His lecture was entitled: "The Diabetes Control and Complications Trial (DCCT). Impact on our understanding and prevention of complications in type 1 DM".
Previous George Cahill lecturers were:
Year

Recipient

Institution and title of the lecture

2017
David M. Nathan
Harvard Medical School, MA
On diapers and septic fields: recent advances in the prevention and treatment of type 2 diabetes
2016
Daniel J. Drucker
Lunenfeld-Tanenbaum Research Institute, Mount Sinai Hospital, Toronto
Redefining classical concepts of incretin hormone action
2015
Ralph DeFronzo
University of Texas Health Science Center, TX
Treatment of type 2 diabetes: a rational approach based upon its pathophysiology
2014
Bernard Zinman
University of Toronto
The Diabetes Control and Complications Trial (DCCT). Impact on our understanding and prevention of complications in type 1 DM