AmorChem venture capital fund invests at MDRC. Two projects of the MDRC researchers Marc Prentki and Nabil Seidah have recently been funded by the venture capital fund AmorChem: more than 1 million and 1.5 million $, respectively. The shareholders of this fund are the Quebec government, Fonds de solidarité FTQ and Merck. The mission of AmorChem is to increase the commercial value of academic research discoveries in Quebec. Click here for an article in La Presse about this news (in French).
Marc Prentki received the 2011 Albert Renold Prize from the European Association for the Study of Diabetes (EASD) for "outstanding achievements in research on the islets of Langerhans".
As part of the prize, Dr Prentki was invited to give the Albert Renold Lecture at the 2011 EASD annual meeting. The title of his talk was: "Tricycling along the β-cell and its coupling mechanisms for fuel-induced insulin secretion".
2011 is an exceptional year of Canadian Diabetes Association (CDA) funding for MDRC members: 8 of the 24 projects funded across Canada this year were granted to MDRC members!
Pedro Geraldes receives the prestigious "Scholar Award" of the CDA attributed to newly independent investigators establishing diabetes-related research in a Canadian university.
Marc Prentki and Vincent Poitout's works have been highlighted in Le donataire. A full page of the June edition of Le donataire, the monthly newsletter of the CHUM foundation, has been dedicated to describing the achievements of the laboratories of Drs Marc Prentki and Vincent Poitout. Click here for a pdf version of the publication.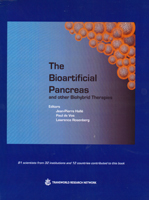 Jean-Pierre Hallé and Lawrence Rosenberg have edited a book on bioartificial therapies and tissue transplantations. Eighty-one scientists from 32 institutions in 12 different countries have contributed to the book entitled "The Bioartificial Pancreas and other Biohybrid Therapies", edited by Drs Hallé and Rosenberg.